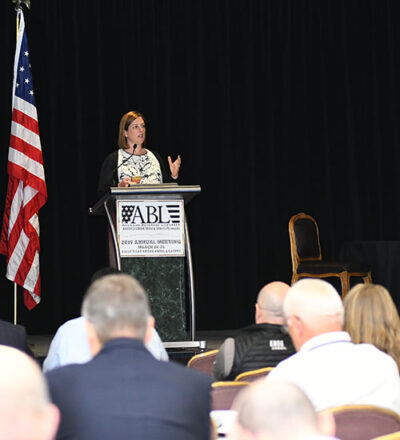 Becky Harris recently finished her term as Chairwoman of Nevada Gaming Control Board (NGCB), where she was the first woman to hold the position. As Chief Regulator for what many view as the gold standard in gaming regulation, she helped guide the Board through a number of controversial matters including sexual harassment issues, challenges involving the legalization of recreational cannabis and its relationship to gaming regulation, the repeal of the Professional and Amateur Sports Protection Act (PASPA), the emergence of sports betting across the United States, and various Wire Act issues. This was in addition to her oversight of the world's most highly regarded gaming regulatory body and serving as an ambassador to other gaming regulators from around the world.
At present, Harris has been named as a Distinguished Fellow in Gaming and Leadership with the University of Nevada, Las Vegas (UNLV) International Gaming Institute (IGI). In this capacity, Harris works with regulators, academics, and other stakeholders on a host of gaming and leadership related issues and projects. She was featured as a keynote speaker during the triennial International Conference on Gambling and Risk Taking, with the topic of "#MeToo: What can we do?" Harris continues to be actively involved in gaming issues around the world and is a highly sought after speaker.
Following her tenure with the NGCB, Harris joined UNLV's International Center for Gaming Regulation (ICGR) which is part of the IGI. As an academic fellow with an emphasis in the study of sports betting, Harris collaborated with stakeholders on behalf of the ICGR to finalize the formation, launch, and first convening of the U.S. Sports Betting Forum, an outlet designed to provide a neutral forum in which stakeholders can convene to discuss policy and regulatory issues relating to legal sports wagering. Harris' work and scope at UNLV expanded beyond sports betting in the development of further regulatory and policy issues that surround gaming across the globe.
Harris was elected to the Nevada State Senate in 2014, representing Nevada's Ninth District. She served two legislative sessions, and her experience includes serving as chair of the Senate Education Committee, as well as a member of the Senate Judiciary, Finance, Education, and Commerce, Labor & Energy Committees. An active member of the National Council of Legislators from Gaming States (NCGLS), an association of lawmakers from across the country in states with legalized gambling, Harris chaired the Responsible Gaming Committee and served as Treasurer. Harris also served as Nevada's State Director for Women in Government and is a Henry Toll Fellow.
Harris holds a bachelor's degree from Brigham Young University (BYU), as well as a Juris Doctor from J. Reuben Clark Law School at BYU. Harris also holds a master's degree from UNLV and obtained a Master of Laws (LL.M.) in Gaming Law and Regulation from the William S. Boyd School of Law at UNLV. Harris is licensed to practice law in the states of Nevada, Tennessee, and Virginia.